Our Herbal Dispensary in Nottingham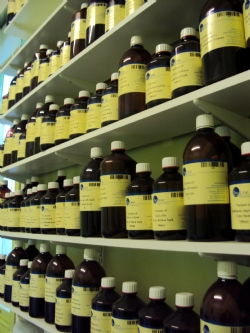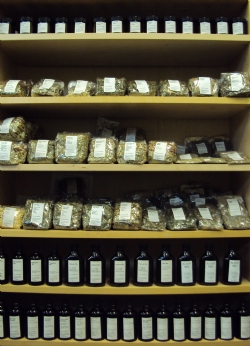 Roots Herbal Dispensary in Sherwood is the largest herbal dispensary in the Midlands with over 800 tinctures, dried herbs and creams, giving you a wide range of options to support the advice given in one of Ken's Medical Herbalist Consultations.


Tinctures
Our range of over 700 tinctures – liquid herbs in a base of alcohol – include well known remedies such as Echinacea, Milk Thistle, Ginseng, Hawthorn and Sage and those that are less common and harder to obtain such as Wild Indigo, Stone Root and Wild Carrot. They can be supplied as individual tinctures or combined into mixtures.
Whilst there are some herbs that we will not supply because they are endangered we always have excellent alternatives available.
Our tinctures are supplied in traditional brown glass bottles to ensure they are fully recyclable and avoid the danger of leaching chemicals that can occur with plastic bottles.
EU legislation means that we are unable to supply tinctures without a consultation. Please talk to Ken to arrange this so that we can provide you with the treatment you need.
Creams
Our herbal creams include:
Calendula – the best all round cream for helping all types of skin complaints. It can be safely used on broken skin.
Arnica – for bruises and sprains. Avoid using this on broken skin.
Chickweed – helps healing, but its main use is to reduce itching.
Comfrey – helps speed fracture healing (the Saxons called it knitbone). It is also good for muscle and ligament problems.
Teas
We have over 50 dried herbs for tea making. These are all Herbalist grade, much better quality than those found in most commercial herbal teas. The range includes:
Yarrow
St John's Wort
Comfrey
Sage
Chamomile
Nettle
Our range of tea mixes include teas for:
Hay fever
Hot flushes
Menopause
Sleeping problems
Digestive problems
We also have a number of mixes specially formulated for children.