The Roots Team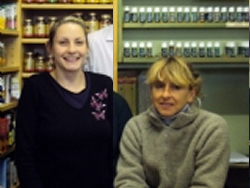 Between us we have a wealth of knowledge and practical experience in all aspects of our products

Ken Dyke worked in the health food industry for over 20 years before taking over Roots in 2000. Ken studied nutrition at Plaskett College and The Institute for Optimum nutrition. Realising that nutrition alone was too slow to treat many acute conditions, he qualified as a Medical Herbalist at Lincoln University, graduating with an Upper 2nd in 2009. Ken is one of very few people nationally to be fully qualified in both Nutrition and Herbalism, and is the only practitioner of his kind in the East Midlands.
Sue Dyke worked for over 20 years at Boots, mainly in the development labs, so she brings a wealth of knowledge about sun protection agents and toiletries generally.

Jo Salter has years of activity in vegan Nottingham. A member of Hziki and the first chef at The Alley Café, before founding Screaming Carrot. Her expertise is of enormous help when discussing diet and recipe options for vegans and vegetarians.
Treena Skrimshire has been with Roots since it opened. She has a wide knowledge of food, herbs and supplements, but her main expertise is hair colouring and bodycare.